What has happened so far: We are Europe! in pictures
Since our first appearance back in 2012, so many people got excited about the fantastic potential of the European dream. Some of these precious moments are shown below.
Who we are
We are Europe! is a group of European citizens from 25 different countries eager to put the citizen back into the democratic heart of Europe. In 2012, we founded We are Europe! e.V. (an association under German law). If you are keen to set up this group with us and found a We are Europe! entity in your country, we will be happy to render assistance. Just call +49 211 9284 1165 or email to: you@we-are-europe.org.
Jens Baganz (Co-Chair)
Sophie Bass
Pawel Golak (Co-Chair and treasurer)
Sven Niles
Jean-Pierre Renollaud
Salem Rezik
Klaus Scherer
Alexander Stoi
Robert Turovsky
Klaus Zimmermann
Jens Baganz
Good to see you on this page! My name is Jens, and I am the co-chair of We are Europe! together with my friend Pawel Golak. The common Europe is still the best political concept ever conceived on this continent, and we have not even begun to realise its immense potential. Our countries are like a symphony orchestra tuning its instruments – but the symphony has yet to be played. Let's work on it, people. Together.
Sophie Bass
My name is Sophie Bass. I am planning to study Business Mathematics in the coming term. I am an enthusiastic and convinced European through and through. I think it is particularly important to strengthen the European Community and bring it further together. The future of Europe is in our hands, so it is all the more important that we strengthen and support each other. My goal is to make people aware that there is so much more to Europe than the familiar bureaucracy. Europe contains so many different facets that form a unique union. We, the European citizens, are what makes Europe, and together we can achieve so much more!
Pawel Golak
I was born in Poland and have lived in Germany for 38 years. My story is typical for millions of Europeans. Today I can proudly say: "I am a European citizen". After so many years of travelling through different European countries, cultures and language areas, I can say: there is a European awareness and it will increase in the coming years. As part of the We are Europe! movement, I want to be part of it!
Sven Niles
I am Sven Niles and 20 years old. I am currently studying statistical mathematics at the LMU. Europe is sandwiched between two world powers and must stick together to bridge not only this difficult time, but also all times to come. Europe must be and remain a fortress of freedom, democracy and cultural diversity. To achieve this, however, Europe must organise and structure itself better. That is why I am with We Are Europe; to actively move Europe a little closer to its potential.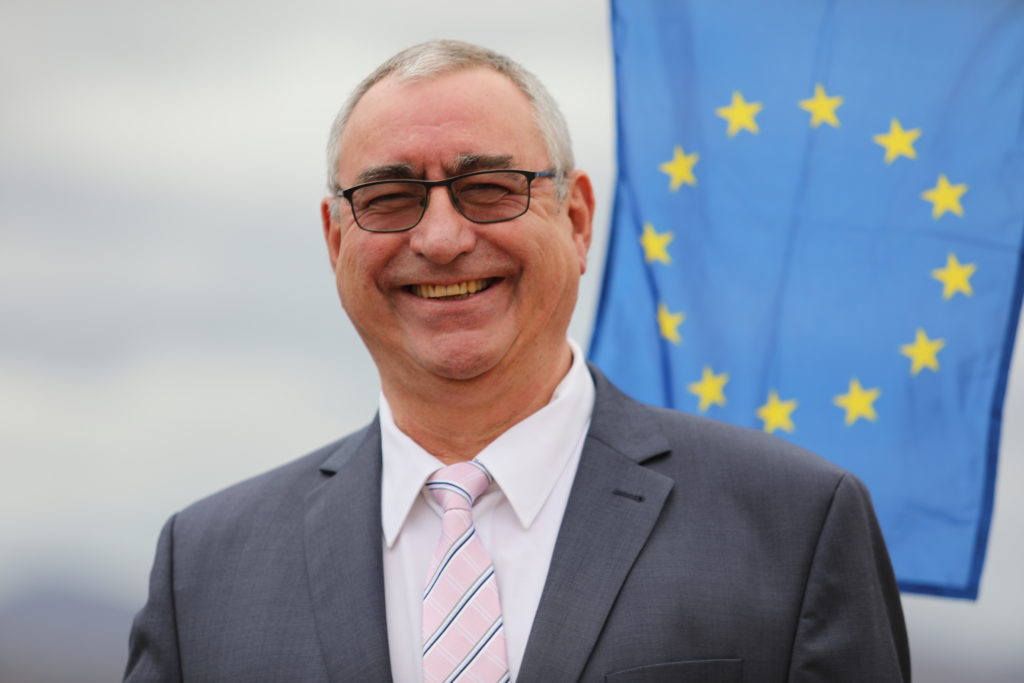 Jean-Pierre Renollaud
Hello everyone, I am Jean-Pierre, a French European living in Bonn, where I work as a linguist, grammarian and language teacher. My commitment to Europe is based on Franco-German friendship and cooperation, the cornerstone of Europe. As a board member of We are Europe!, it is my major concern to represent and promote the values of our European Union: Respect for human dignity, freedom, democracy, equality, the rule of law and respect for human rights should be sacrosanct. Nothing but this common ground can preserve and realise peace and international understanding. Vive l'Europe !
Salem Rezik
My name is Salem, I'm 20 years old and a physics student in Dortmund. We Europeans are a community of destiny! Whether we like it or not, external and internal circumstances give enough cause and sow the seeds of a common future that we need, especially in the modern age where the old rules of the game no longer apply, in a world that is growing together more and more. Together we are stronger than alone, which is why deep European cooperation is essential to preserve freedom, security and prosperity before we are crushed between America and rising Asia. I have travelled extensively in Europe and Africa and even spent a year in China, and I can testify that we Europeans, despite all our differences, are united by a European spirit!
Klaus Scherer
Hello, I'm Klaus. I studied electrical engineering and information technology at the Technical University in Berlin at the time when this terrible wall stood in the middle of the city. I could see the dangerous excesses of nationalism every day. After my professional career, I started to promote transnational thinking and cooperation in my spare time as a board member of We are Europe! Besides advising and supporting on technical issues, I always try to show that a cooperative Europe is extremely successful. For example, I have organised information tours to AIRBUS and ESA (European Space Agency) to demonstrate how strong and innovative Europe can be when its countries and people stand together.
Alexander Stoi
Hello, my name is Alexander and I call myself a proud European. My whole family lives and comes from different European countries, so travelling a lot in Europe has made me realise what a beautiful and culturally diverse continent I live on. Politically, the European Union is in so many ways a necessary and practical concept, simplifying and constantly improving communication and politics between countries. Under democratically free conditions, every country in Europe, every culture in Europe and finally every person in Europe may live and develop as they wish. However, Europe also has its rough edges. For me, it is above all important to strengthen the cohesion of the countries within Europe and to convey a sense of community to the people. Because only together are we strong and only together can we change Europe in a positive way. Wir sind Europa! We are Europe!
Klaus Zimmermann
Europe must assert itself between the power blocs in the world. Only common values, internal security and a common defence will ensure that. And besides, Europe is a fantastic continent for business, social life, travel and an incredible variety of cultures.