Y

es, we are a European association –

YEA

!
Democracy is the rule of the citizens. The European Union is right to be proud of its democratic values. However, European civil society has so far been denied a fundamental democratic civil right: freedom of association at European level. That is why we now call on the European institutions to continue their efforts until the 10th European elections (2024) to create a European statute for associations. You are invited to join our campaign if your association, too, says: "Yes, we are a European association – YEA!".
Franco-German Parliamentary Assembly: Get out of the capitals!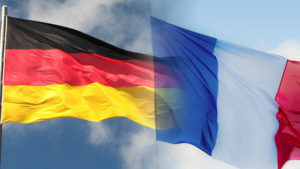 Germany and France – these two countries are the engine of European integration. And this engine must not stutter. It was therefore an important signal for Europe when the new "Franco-German Parliamentary Assembly" was constituted on 25 March 2019. It consists of 100 members, i.e. 50 members of the German Bundestag and 50 members of the Assemblée nationale, who are to meet at least twice a year alternately in Germany and France. But under no circumstances should that mean: only in Paris and Berlin! Because the spirit of the German-French friendship must be carried into the country and may not be only a capital city affair. So on June 28, 2019, we wrote to the board of the new Assembly and suggested
that the assembly not only be held in the capitals, but according to a determined rhythm in all regions and federal states.
And to make it as concrete as possible, we invited the Assembly to one of its next meetings in Düsseldorf.
We hear that the Executive Board responded favourably to this suggestion. May this be followed by action!
European democracy passports
"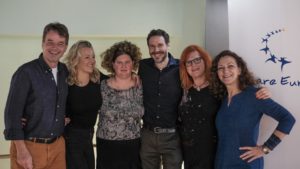 How could we support the idea of transnational democracy in Europe with the means of art", we wondered in autumn 2019. In a close dialogue with artists dedicated to the European dream and "Pulse of Europe Düsseldorf", we elaborated the concept of a "European democracy passport". And on Nov 23, 2019, we got ready to issue its first edition in Düsseldorf. The very special feature of this passport: Renowned international artists of the exhibition series KÜNSTLER SEHEN EUROPA - Nadja Zikes, Robinson Tilly, Rhea Standke and Theresa Kallrath - agreed to design page three of each passport individually. "Each passport will be unique," they promised - and they kept their promise. The passport sample was designed by Brigitte Marx.
The passports are calling on all responsable institutions
to get engaged in the conversion of the European Union into a transnational democracy in which civil rights and liberties can be exercised across borders and regardless of nationality.
Preparations are being made to extend the project to further European cities by spring 2020.